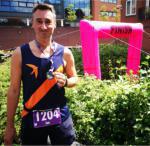 Hi, I'm Ian and I'm the founder of Walk Run Cycle.
Thanks so much for being like me and wanting to really explore a city and see all those best bits and hidden gems that usually only the locals know about!
All the routes in our apps have been created by real people, on the ground, who know the city inside out. We've walked, run or cycled up and down checking out every possible route for you - we don't just string together the 5 main sights and the shortest route between them. After all, where's the fun in that!
We take you down the prettiest, most interesting streets instead - which might be slightly longer, but a lot more pleasant!
WALK
Are you visiting Birmingham and want some key walks and routes to show you all the best sights? How about a few alternative walking routes to get you off the beaten track? We have created the best selection of walks to show you the highlights of Birmingham, with easy to follow maps.
RUN
Feeling energetic but don't know where to run or where the nicest daytime or night-time runs are? You'll love our simple selection of 1.5km, 3km, 5km, 10km and 21km (half marathon) run routes in Birmingham.
CYCLE
We have created some great cycle routes, perfect for the whole family (or the keen cyclist) to see the best parts of Birmingham. You will also find some bike routes through the lesser known areas such as Moseley, Harborne and Bournville. And always on the greenest, most pleasant bike paths or roads wherever possible.
So I really hope you enjoy discovering Birmingham as much as we all did. And remember to send us your photos or leave comments on individual routes, we look at them all!
Book your hotel in Birmingham with great offers here.
We love this video filmed in front of the Council House of Birmingham, and performed live for the handover ceremony of the Commonwealth Games in 2018, with Birmingham the host city in 2022.
(Please make sure you are not paying excessively for mobile data when playing this video. The main dance routine starts at approx 7min 50s into the video).
Please take care when following any routes - don't just look at your phone and walk into a canal! Also, obey any road signs or diversions as appropriate as road works can create diversions at any time. Please don't start running unless you are sure about your fitness - check with your Doctor if in doubt.